Awning Windows Installation Toronto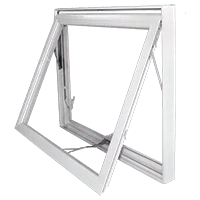 Awning windows are a graceful, elegant addition to the home, combining modern simplicity with easy grace reflected in the manner that they open. Their unpretentious presence will allow plenty of unobstructed sunlight indoors while providing ample room for fresh air.
Equipped with our standard safety features, awning windows will fit with perfect ease in a kitchen or a child's room. They can be used in sets of one or more depending on the window size.
Their design lets them open downwards, meaning you can aerate the house while being fully protected from rain and snow. Finally, our awning windows have all the energy saving qualities of our other window models.
| | |
| --- | --- |
| Overall U-Value: | 1.3 |
| Energy Rating: | 34 |
| NRCan Reference: | NR7033-34949483-ES5 |
| | |
| --- | --- |
| Overall U-Value: | 1.04 |
| Energy Rating: | 38 |
| NRCan Reference: | NR7033-34949489-ES5 |
| Window Type | Avg. Price Min — Avg. Price Max |
| --- | --- |
| Awning Windows | C$410 — C$950 |
| Casement Windows | C$410 — C$950 |
| Fixed Windows | C$400 — C$900 |
| Hung Windows | C$410 — C$950 |
| Slider Windows | C$410 — C$950 |
| Hopper Windows | C$300 — C$800 |
| Window Location | Avg. Price Min — Avg. Price Max |
| --- | --- |
| Living Room | C$1860 — C$2920 |
| Kitchen | C$590 — C$1260 |
| Bedroom | C$620 — C$1310 |
| Basement | C$380 — C$690 |
| Basement Egress | C$1430 — C$4900 |
| Bay/Bow | C$2950 — C$4500 |